Main content starts here, tab to start navigating
About Us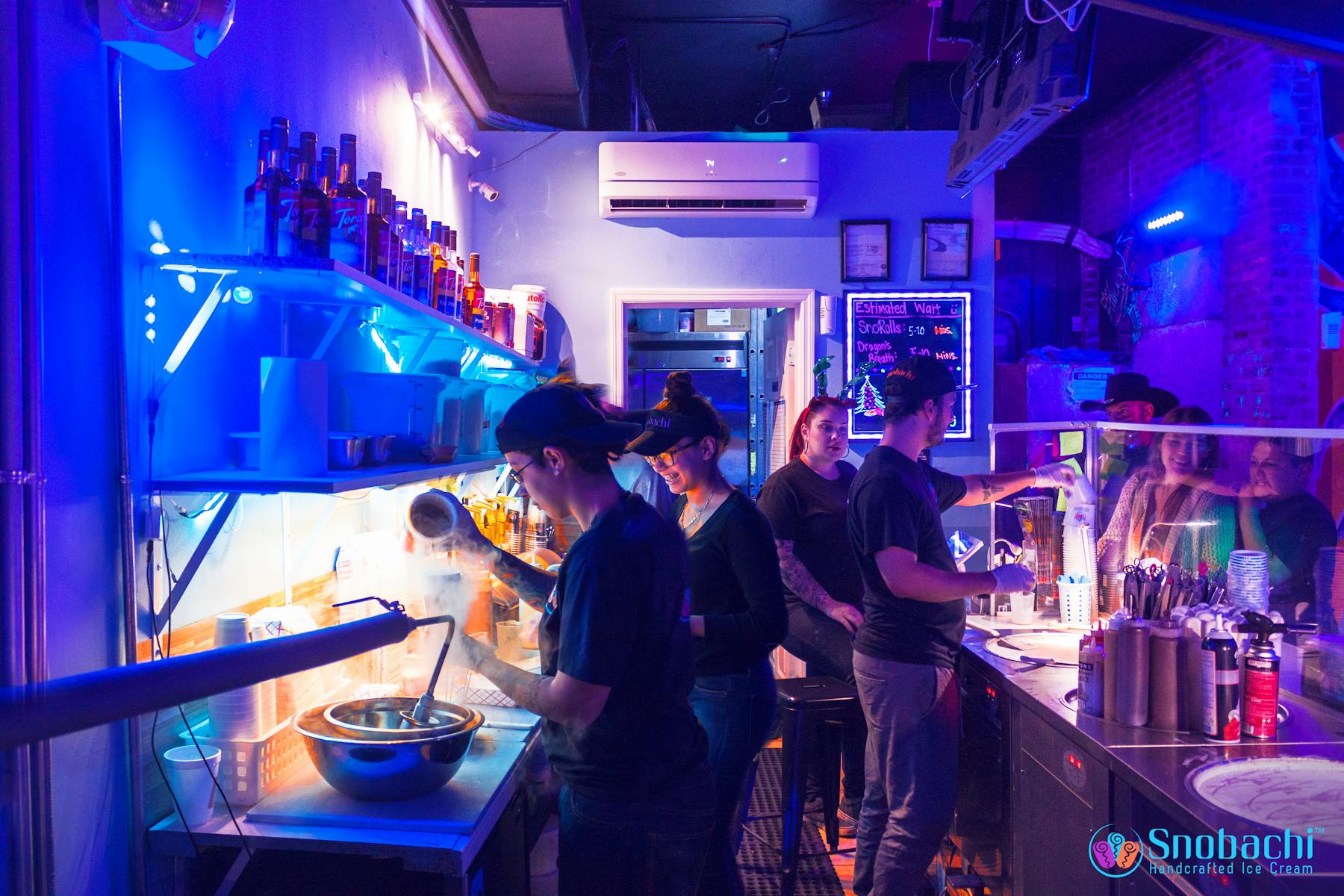 Snobachi Handcrafted Ice Cream is founded by Jay Andujar a veteran who served in the U.S. Air Force. In March of 2016, the idea of Snobachi Handcrafted Ice Cream was born in Tampa, FL. Endless days of research and trying to come up with a new business concept, two different concepts at the same time popped up, Rolled Ice Cream and Dragons Breath. After watching videos on youtube from Thailand, the lightbulbs went off, we instantly knew this would be a great idea and couldn't wait to try it. We then looked for the nearest shops that offered either rolled ice cream and dragons breath only to find out that New York was the closest place to offer rolled ice cream. We also couldn't find any place to serve both items in one shop at the time, so we figured we give it a shot to be the first shop to offer both products here in Florida.
Fast forward a few months later and Snobachi held its Grand Opening on December 31st, 2016 on New Years Eve in the beautiful Historic District of Ybor City in Tampa, Florida.
Our Story
Snobachi freezes the cream on a cold plate at negative temperatures with the ingredients you've chosen, fresh before your eyes! We then Roll it up into a cup which we like to call them "SnoRolls." We also crush/chop our toppings inside the cream to give it that enhanced flavor and put some on top as well. Listening to each and every one of our guest is key and we try our hardest to make them satisfied. That is what Snobachi is all about and what truly makes us special! We took our military experience with us in order to go above and beyond for our guests.
In order for us stand out from the rest, we had to put our spin on all these new trendy ideas. By adding more modern flavors onto our menus and by using only the best quality ingredients we could find to include fresh fruits from our local farmers market. We realize that this way of preparing and eating rolled ice cream would be the future of how people consume Ice Cream here in America and we had to be apart of this movement. We want to be known as the best late night dessert/ice cream spot to go to in tampa and beyond.
Our Creative process is like no other in that we really cater to the idea of (Customizable Ice Cream Flavors), yes the idea of rolling up your ice cream is unique, funky and cool but what really separated us from the pack was the fact that we could customize each ice cream to our customers desires. Traditional ice cream shops have a list of certain flavors and they don't mix and match like what we can offer here at Snobachi.
I remember a few years ago walking into an ice cream shop and wanting a oreo-cheesecake flavor ice cream, this ice cream shop told me that they don't have that certain flavor but offered 2 scoops, one being oreo flavor and the second being strawberry cheesecake instead. I didn't want the strawberries in there, I simply wished for an oreo cheesecake ice cream flavor which they couldn't provide me with. That's when I realized I wished there were a place where they can create the exact ice cream flavor of your choosing on the spot.